Thank goodness I discovered ZOODLES! You see, I suffer from mild gluten intolerance which makes life a bit uncomfortable if I eat certain breads and most pastas. As a result, I have avoided pasta for a long time – which sucks because I love it!
Then, sometime in the past year, I purchased a spiralizer! BEST thing I've bought for my kitchen in ages!
The beauty of the spiralizer is that I can now FULLY enjoy "pasta" meals without compromising the meal for others at the dinner table. I just make ZOODLES instead of traditional pasta for my portion of the meal.
What Are Zoodles?
Zoodles are zucchini noodles!  You make them by putting a zucchini through the spiralizer to create strings of zucchini.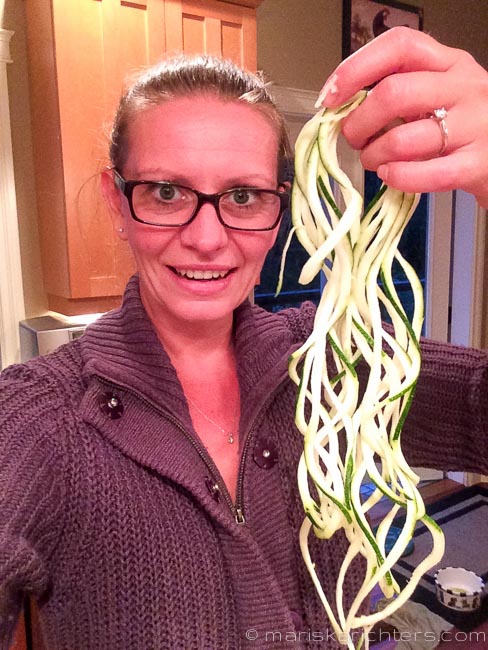 Why Zoodles?
Zoodles are an excellent way to add extra veggies to any meal. It's also an easy way to remove carb-heavy pastas from your meal plan by substituting with zucchini noodles.
What is a Spiralizer?
THIS (image below) is a spiralizer. I picked this one up at Winners/HomeSense for about $15. I wanted to try it out before spending a chunk of cash on a KitchenAid or CuisinArt spiralizer. This cheapie one has served me very well!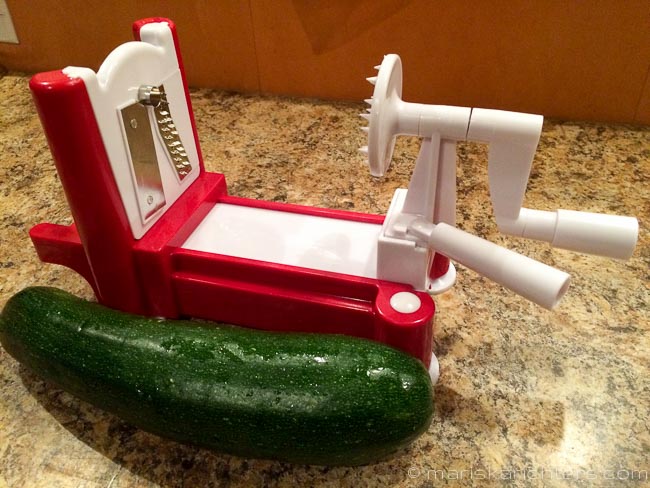 How to Make Zoodles
Wash your zucchini – always wash your vegetables before eating!
Cut the ends off your zucchini and cut it in half if it's too long to fit into the spiralizer at full length.
Turn the handle and VOILA! You have Zoodles!
Add coconut oil to a skillet on low-medium heat.
Add zucchini noodles and sauté, gently stirring until soft (about 3 minutes)
Season with salt & pepper.
Use as the base for your favourite sauce, or mix through the sauce right before serving
If you're following the 21 Day Fix Eating Plan, a 1-cup serving equals 1 green container.
Enjoy!
Post your comments or questions below.