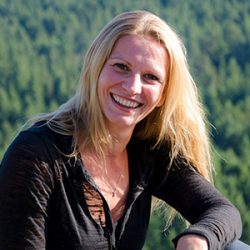 My name is Mariska Richters and I am an Online Health & Fitness Coach.
I've lost over 20lbs and 13 inches through my own personal health journey. Through simple portioned (and delicious) nutrition, 30-minute at-home workouts, and daily dense nutrition shakes, I have found a formula that works.
I started my journey at nearly 160 lbs in June of 2016. By September I was down to 140lbs and feeling great about my body, comfortable in my own skin, energized, and feeling generally good about my health.
I want to share this experience with you and help you accomplish your own health goals by coaching you through the same process that has worked so well for me and so many others.
Before & After
Before beginning my health journey (photo on the left, October 2015), I was the heaviest I have ever been in my life, I didn't feel comfortable in my own skin, and none of my clothes fit comfortably anymore.
In June 2015 I took charge of my health, fitness and nutrition, lost 20 lbs and 10 inches in 2.5 months.
Now I feel like myself again. I'm have more energy, I like the way I look and feel and I have renewed confidence in myself (photo on the right, August 2016).
If you're feeling low, need a pick-me-up, want to clean up your eating habits, have some weight to lose, want to finally drop that baby weight or just want to drop those last few pounds and feel stronger in mind and body, this program can work for you too!
The Keys to Health Success
They keys to my success includes 30-minute at-home workouts, clean eating via a dialed meal plan and portioning system, dense nutrition shakes and online coaching and support through monthly challenges.
I've found that meal prep is the key for me sticking to my meal plans and not going for the easy packaged snacks. Shakeology has helped me curb my (intense) sugar cravings, reduced bloating and regulated my digestions. It also helps that it tasted great!
The 30-minute at home workouts are over before I know it and I feel energized and strong. I love that I don't waste time getting to and from the gym, I need minimal equipment (2 sets of hand weights), and I can do them just about anywhere (my living room, my backyard, or even at the gym if time allows me to get there).
Why did I become a Beachbody coach?
After experiencing my own success with the Beachbody programs, I'm inspired to share this feeling of success and accomplishment with others.
I'm passionate about helping people reach their health, fitness and financial freedom goals to help them become the best and happiest version of themselves.
Contact me to start your health journey!
Are you living to your fullest potential? Does your life on the outside match your dreams on the inside?
Do you feel confident and strong?
Are you ready to take charge of your health to become the best, fullest version of yourself?
Drop me a message below to get set up for success!