I don't know what it is about beef barley soup, but it's always SO delicious! Soups are one of my favorite things to make in the slow cooker, and this recipe is no exception.
Recipe Details
Prep time: 20 minutes
Cooking time: 6 hours on low in your crock pot
Serving size: 1 1/2 cups
If you're following the 21 Day Fix eating plan, each 1 cup serving equals:
Shopping List / Ingredients
As always, when shopping for your ingredients, try to buy organic and locally grown produce when possible and avoid items with too many additives – sugars and preservatives.
1 tablespoon olive oil
1½ pounds cubed stew meat  (I used an already cooked leftover roast from the freezer)
1 cup onion – diced
1 cup carrots – diced
1 cup mushrooms – sliced
3 cloves garlic – minced – Try to avoid garlic from China.
⅓ cup tomato paste – Check the ingredients while shopping to ensure it's not full of all kinds of preservatives.
6 cups beef broth – use homemade, organic, low sodium if possible.
⅔ cup pearl barley
salt and pepper to taste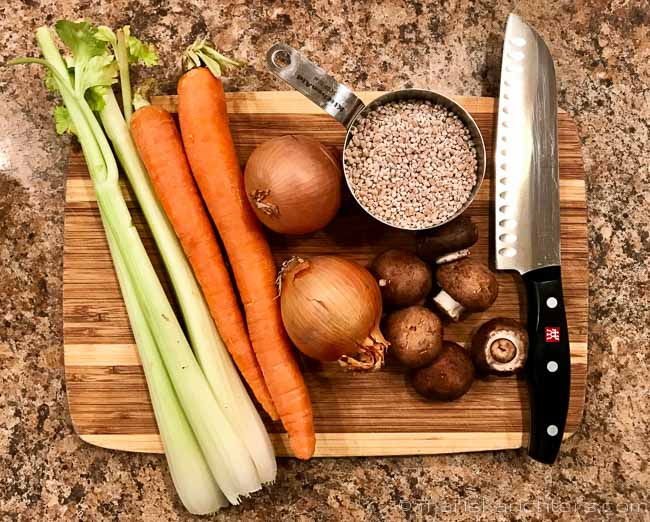 How to Make Slow Cooker Beef Barley Soup:
In large skillet over medium heat, heat the olive oil for about 2-3 minutes.
Add half of beef cubes. Let cook for about 3-4 minutes or until a brown crust begins to form. Turn once. Brown an additional 3-4 minutes and place in slow cooker.

As mentioned above, I used a leftover oven roast, in which case this step can be skipped. Just cut it into cubes and place into your crockpot.

Repeat with remaining meat.
To the already hot skillet, add your onion, carrots, mushrooms and garlic. Stirring to remove any flavorful brown bits from the bottom of the skillet.
Saute until onions are soft. Your carrots will still feel hard but they'll continue to cook in the slow cooker.
Add tomato paste and sauté until well mixed into the veggies – it will be a bit thick, just keep stirring! Cook for 2-3 minutes.
Toss all that on top of the beef in your slow cooker.
Add broth and barley.
Stir until well combined.
Cook for 6 hours on LOW or for 4 hours on HIGH.

Time will vary depending on how hot your slow cooker gets. Check the meat, when it's tender – its done! Season to taste.

Garnish your finished beef barley soup with cilantro and serve with a slice of toasted baguette.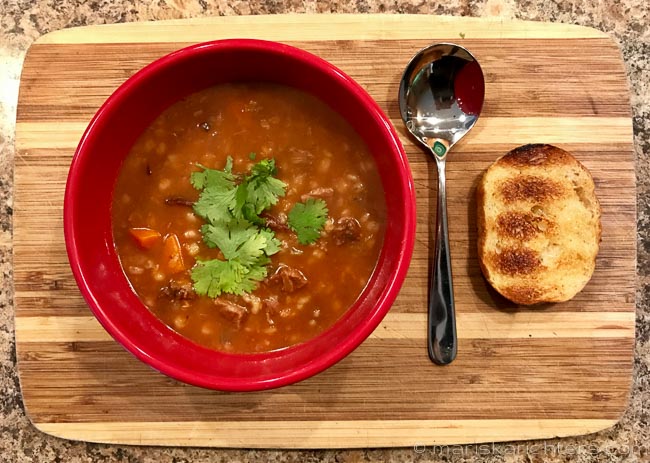 Enjoy!