Coconut oil has become all the rage. There are so many benefits and uses for this natural oil, some of which I will cover in a future post. Today I'm going to focus on another wonderful nectar that this delicious fruit provides: Coconut Water!
I first discovered coconut water while traveling in Bali seven years ago, and then I rediscovered it in Costa Rica about three years ago. Toward the end of my trip, I would hunt down "Señor Coconut" on the beach to indulge in this delicious nectar on a daily basis. My favourite time to drink it would be after my morning beach workout as a reward for my hard work.
What I didn't know then was that coconut water has many benefits beyond its refreshing deliciousness!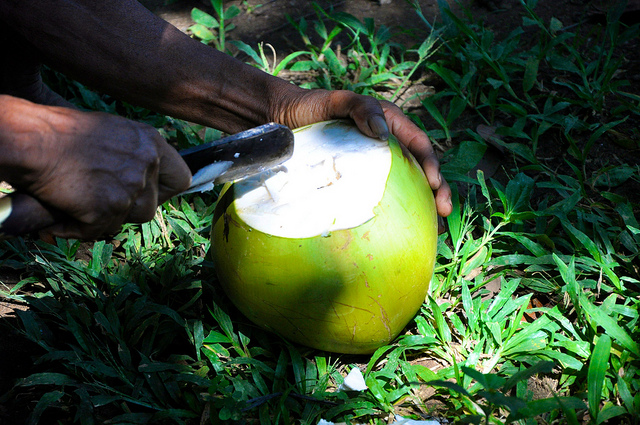 11 Health Benefits of Drinking Coconut Water
Hydration – Coconut water is rich in potassium and natural sugars that your body needs to rehydrate after rigorous exercise.  Sport drinks only carry half the amount of potassium and twice the sugar compared to coconut water. So stop buying sport drinks and try this natural and more effective (and healthier!) alternative.
Energy Booster – Rich in essential nutrients, coconut water makes a wonderful energy drink. Coconut water has less sugar and sodium content than energy drinks, and a high content of calcium, magnesium, phosphorous, and potassium which helps hydrate and rejuvenate the body.
Hangover Remedy – Thanks to it's hydration properties, coconut water is a great remedy if you had one too many the night before. It also helps settle your stomach and replaces essential electrolytes for those really rough hangovers that result in vomiting and dehydration. So before you reach for that caesar or redeye, give your body a break and start with a glass of coconut water!

My first ever fresh coconut water was in Bali, Indonesia in 2010.

Muscle Cramps – You know how they say you should eat bananas to avoid cramps? Well if you're not a banana fan, this is a perfect alternative. The high potassium content in coconut water helps to reduce muscle cramps caused by potassium deficiency.
Weight Loss – Regular consumption of coconut water increases the metabolism rate which helps burn sugar much faster. As a result, the level of insulin in the body burns faster, causing more energy and fat burning. It also helps you feel full and reduces cravings.
Stronger Bones – Coconut water is high in calcium, which we all need for stronger, healthier bones, muscles and tissue.
Regulates Blood Pressure – It helps improve blood circulation, lowers blood pressure and reduces the chances of a heart attack or other cardio problems. Drink up!
Skin Benefits – If you have problem skin, or you simply want to retain your skin's youthfulness (who doesn't?), apply coconut water on your face and leave it on overnight. Coconut water has shown to be effective against acne and acts as a toner for the skin. It also moisturizes your skin from within if you drink it regularly.
Hair Conditioner – You know all those hair products that contain coconut oils and extracts? Well it's not just to make it smell nice! It actually conditions the hair from within by penetrating the hair shaft. You can get these benefits by either consuming coconut water, or by washing your hair with it. It also promotes hair growth by protecting the scalp against dandruff, lice and itchy scalp, all of which can impede hair growth. And an added bonus: it gives your hair a beautiful healthy shine!

During Pregnancy – Doctors often recommend coconut water during pregnancy to help fight constipation, heart burn and slow digestion.  It helps to improve immunity and boosts the levels of amniotic fluid and improves the overall health of the foetus (and the mother).
All Natural – The BEST part about coconut water is that it's ALL NATURAL! There are no added artificial sugars, preservatives, colouring or other chemical ingredients that you want to avoid.
This is just a short list of the many benefits of this delicious natural nectar. Do your body a favour and try drinking coconut water today! You can drink it straight up or add it to a shake or smoothie. However you decide to ingest it, get it in ya!
Where to Buy Coconut Water
If you're lucky enough to be living the dream in the tropics, you will likely find a plethora of fresh coconut vendors around. If you are living the dream in a cooler, non-tropical place, bottled coconut water is available in most grocery stores and you can even have it delivered to your door by ordering online from Amazon. Many yoga studios stock it because of its health benefits and some gyms do as well. You may never have noticed it before, but it's everywhere. Drink Up and Enjoy!
What benefits have you noticed from drinking coconut water?